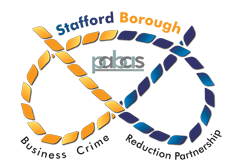 The membership covers both the day and night time economies in all town centres within Stafford Borough. The aim of the Partnership is to tackle business related crime in the area with a view to making the town centres a safe and friendly place to work and to visit. Business crime is classed as any crime that affects a business or its staff during both open and closed hours.
The Police remain the lead agency in relation to enforcement, however businesses can support that police action by providing evidence from members. The Partnership can also take independent enforcement action in relation to warning letters and exclusions notices. This additional action is taken collectively, on behalf of all businesses members and often helps to prevent and reduce criminal activity in and around your businesses.
Information is shared between the members of the Partnership and other agencies which include the Police, local authority and CCTV. By working together businesses become aware of known offenders who may be active in their town centre. The early identification of offenders helps businesses to reduce the opportunities for them to operate in the area. The exchange of information with neighbouring towns and city centres also helps to identify travelling criminals. This information can be safely shared between Partnership members and other signed up agencies. This information exchange has proved to be a great help not only to local businesses but to the enforcement agencies such as the police and licensing teams.
For further information please contact the Business Crime Manager through the contact details on this page. To apply to join please download and complete the application form in Documents above.