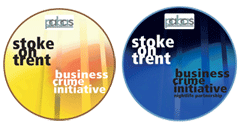 SOT BCRP is an integral part of the PABCIS HUB which brings all of the Business Crime Reduction Partnerships in each town centre across Staffordshire together under one governance Board and one structure.
The service delivery of SOT BCRP as in all PABCIS partnerships includes:
Access to shared intelligence and information locally, countywide, regionally and nationally through a secure APP
On line reporting processes enabling businesses to report activity affecting business in their local area.
Analysis of trends, patterns, and activities for management purposes
Participation in a number of Exclusion Schemes including retail and night time economy
Access to one of several radio links linked to the BCRP, Police, CCTV and business
Monthly and bi weekly intelligence briefings
Representation by the BCRP on various forums
Integral part of delivery plans of various statutory and non statutory agencies
Various training packages
Delivery of initiatives and campaigns
Counter Terrorism training
For further information please contact the Business Crime Manager through the contact details on this page. To apply to join please download and complete the application form in Documents above.