PABCIS is an innovative concept in the world of business crime and is at the forefront of the fight against crime and disorder affecting  retail and night time economy businesses in  our town and city centres throughout Staffordshire. PABCIS was launched some years ago with the objective of bringing about a corporate, consistent approach in managing crime affecting businesses. It has continued to deliver a corporate and consistent approach right across the county and recently entered Phase 3 of its planned development. PABCIS is a strategic Partnership of Business Crime Reduction Partnerships (BCRPs) and Shop and Pub Watch schemes, across the county, all of which are working together to identify offenders and manage them appropriately using an intelligence-led approach, reducing the opportunity to commit crime and reducing the fear of crime in the town centres.  PABCIS is funded by members of local Partnerships with support funding from the Office of the Police and Crime Commissioner for Staffordshire.
How does it work
Collectively Staffordshire Police, businesses and partners have identified the benefits of a productive, effective, well–managed and legally compliant BCRP in dealing with the 24 hour town centre economies. PABCIS has been set up to bring about a consistency of approach to reduce business crime across the county and to ensure that best practice is followed by all partners, thus enabling businesses to have confidence in the level of service their local businesses receive across the county from the respective PABCIS members.
This level of consistency adopted at local level in delivering a high quality product is matched by a consistent police approach to tackling business crime. Each local Partnership is managed at the PABCIS HUB but each has close ties with the Local Policing Units in their area, meeting regularly and sharing relevant information to help reduce and prevent crime and anti-social behaviour at local level, building strong foundations of the PABCIS structure. All local partnerships are governed through the PABCIS structure bringing a countywide strategic and intelligence-led approach.
What does it do
Local Partnerships are exactly as their title suggests, they are managed through PABCIS with business representation for the benefit of business with support of relevant law enforcement and other agencies. Each local area  has a local focus in managing local crime affecting business in the local retail and night time economies  effectively helping to manage local issues. The day to day management of each local partnership is by a Business Crime Partnership Manager under the control of PABCIS through its Manager and Management Board supported by a Steering Group. Each local partnership is governed through the consistent/corporate approach of PABCIS while maintaining relevant local focus.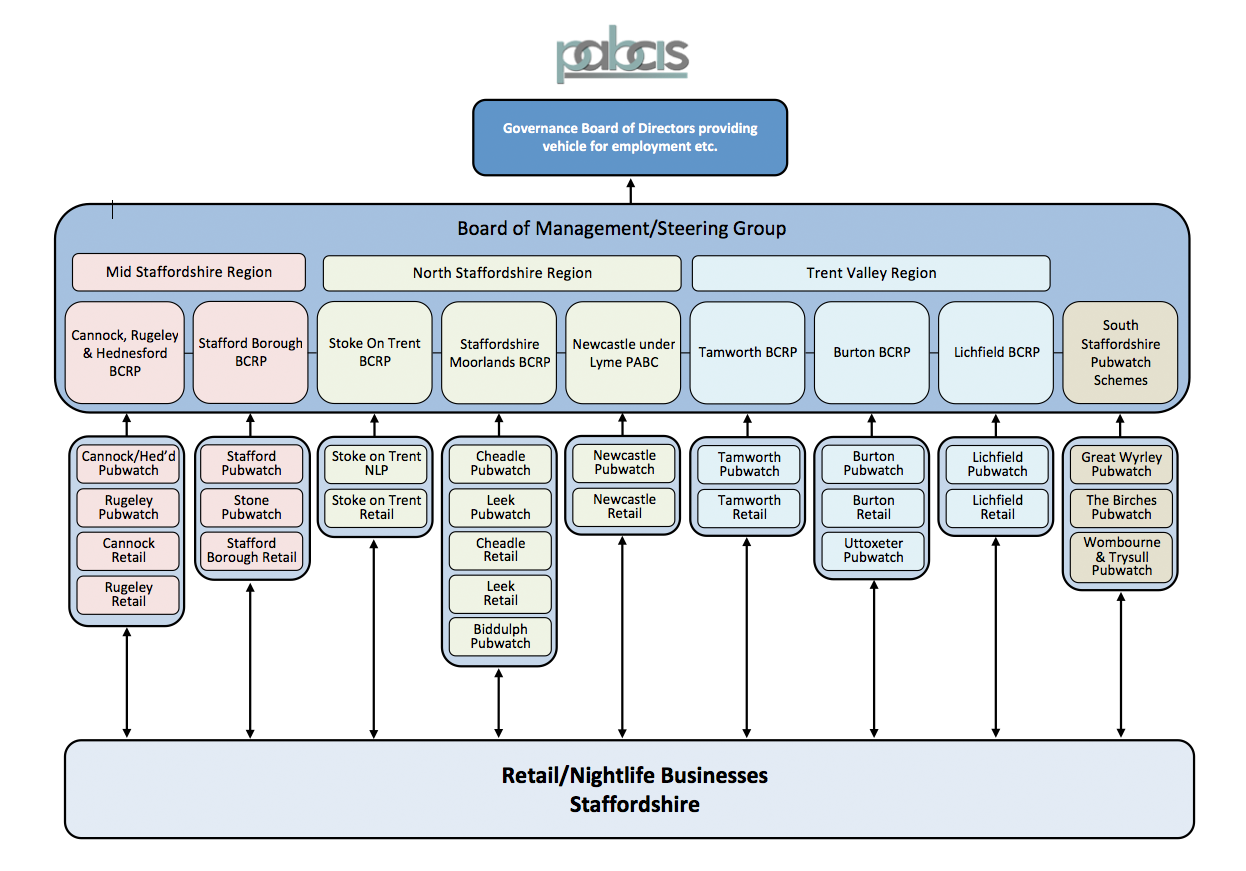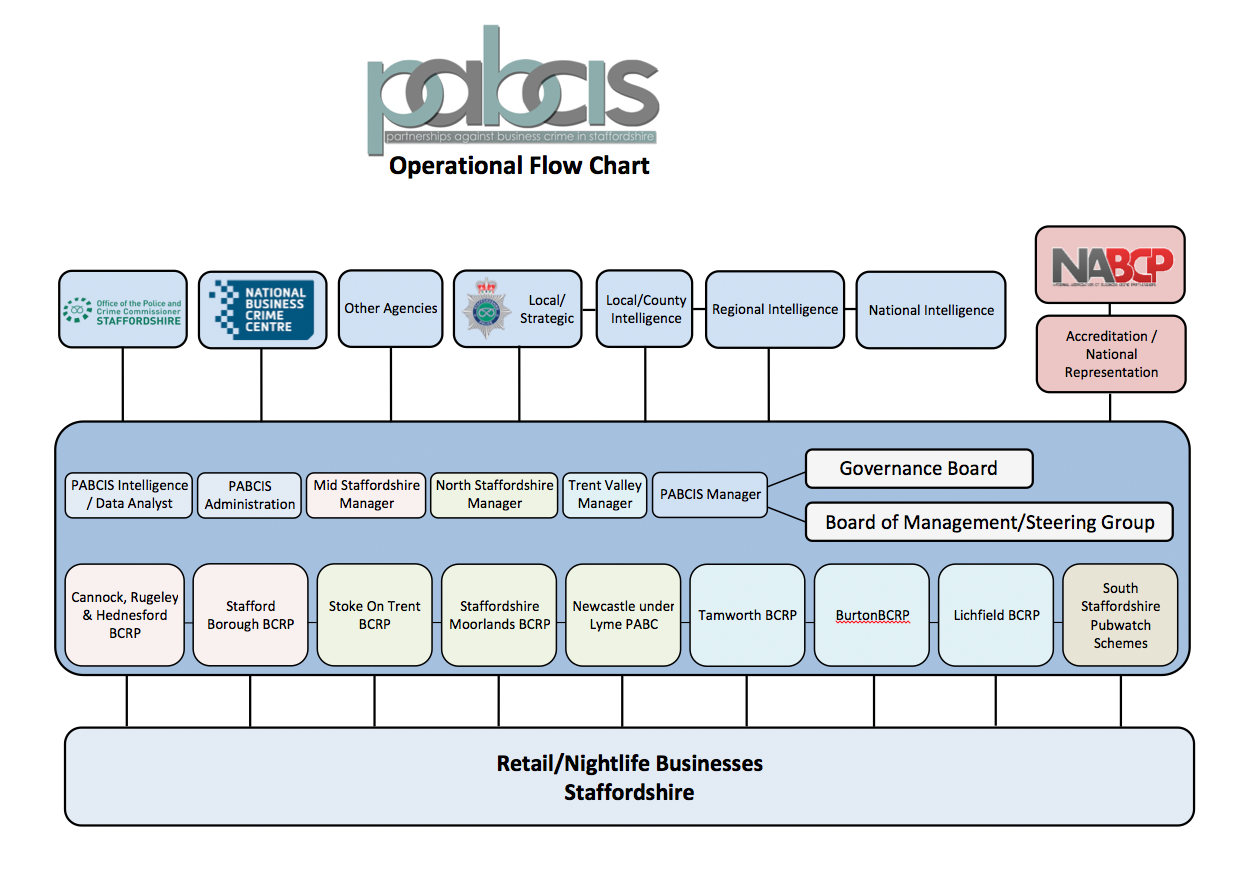 PABCIS has created a Central operational HUB for local managers, mentoring, supporting and enabling them to successfully manage their local members' data to provide effective exclusion schemes, bulletins, briefings, warnings and suchlike in line with the local Partnership delivery plans. Local identity is maintained whilst adopting a corporate and consistent approach across Staffordshire through the work of a County manager.
Local partnerships manage their information through a local intelligence system which is then fed into a central PABCIS intelligence hub. PABCIS is then in a position to deliver both management information and intelligence packages to both local Partnerships and the police on trends and offenders both local and travelling. Level 1, local offending, by far the greatest volume of crime and disorder, can be dealt with on a local level by the local Partnerships in line with their local priorities, procedures and protocols whilst offenders impacting outside each of the local areas can be identified and when necessary raised as specific threats to the county through police channels at county, regional and national levels.
All BCRPs in Staffordshire offer many benefits including, inter alia:
Access to shared intelligence and information locally, countywide, regionally and nationally through a secure APP
Identification of offenders
On line reporting processes enabling businesses to report activity affecting business in their local area.
Analysis of trends, patterns, and activities for management purposes
Participation in a number of Exclusion Schemes including retail and night time economy
Access to one of several radio links linked to the BCRP, Police, CCTV and business
Monthly and bi weekly intelligence briefings
Representation by the BCRP on various forums
Integral part of delivery plans of various statutory and non statutory agencies
Various training packages
Delivery of initiatives and campaigns
Counter Terrorism training