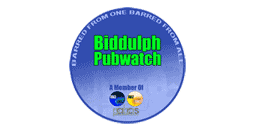 The scheme is part of the PABCIS HUB and managed on behalf of the Licencees by the a Business Crime Manager employed through PABCIS.
Members of Biddulph PubWatch participate in crime reduction campaigns initiated through PABCIS and take advantage of training packages which are on offer from time to time. Early intervention work is also carried out in terms of warnings to those who may become involved in minor disorder which could have a knock on effect within the trading environment.
For further information please contact the Business Crime Manager through the contact details on this page. To apply to join please download and complete the application form in Documents above.